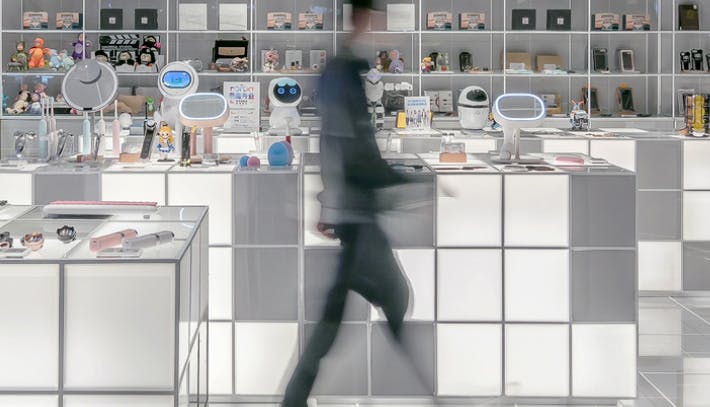 This article appeared first on LinkedIn.
The BRC's Chief Executive Helen Dickinson recently issued a stark warning about where retail is heading. 'The future is bright,' she said, 'but we must create the opportunities to ensure it's not Armageddon retail but reinvention retail.' It's an important message for an industry in a state of flux - 'disruption' has been a buzzword for a while now, since businesses woke up to the fact that they had to do something about the ever-increasing use of smart tech in our everyday lives.
But over the years 'disruption', along with all the uncertainty it suggests, has become synonymous with 'innovation' – a shift in definition which has done no favours for the retail industry when it comes to meaningful development of products and services. Here are four reasons why retailers need to:
Let go of the idea that business transformation demands business upheaval
Overcome their fear of change by realising the potential of using what they already have in new, profitable ways
Recognise that retail innovation depends on adaptation, not disruption
1 Change can lead to collapse without the right support
Fact: According to the IDC Research FutureScape report, 50% of digital transformation initiatives will fail by 2020 because of a lack of an end-to-end customer experience platform
It's easy to be swayed by the allure of shiny things – a new gadget, the latest high-tech installation, or a virtual reality gimmick. But using budget to paint a veneer on top of your systems without tackling how your underlying data works and connects across the entire customer experience will give you more problems than solutions. Beacons are a great example – many retailers have been attracted to the way they can track customer movements, but beyond this very few have a real strategy for using and managing the information. Retailers with successful digital store strategies have based their roadmap on sustainable, intelligent, customer-driven data which is embedded for long-term results rather than short-term engagement. According to Aberdeen Group, 77% of strong omnichannel companies manage customer data across all channels, providing a solid platform for the digital store without upturning business as usual. 
2 Too many tech choices can paralyse board-level decisions on digital store strategy
Fact: 61% of retailers surveyed by retail tech analysts RSR believe that their existing tech infrastructure is preventing them from moving forward, and 67% believe that IT projects are never delivered on time, in scope or on budget
Today's retail C-suites are faced with three major challenges – choice, cost and commitment. Those who have had their fingers – and budgets – burned in the past by systems and platforms which failed to deliver are understandably hesitant when asked to pick something that they can be confident will work from the myriad solutions on offer. This fear of upsetting business as usual by 'backing the wrong horse', along with the inevitable conflicts over sunk costs and risk to business of committing to a process which they believe may take years to implement, can be catastrophic as it prevents the Board from making any decision at all. The demise of Toys R Us and Maplin taught the industry that 'doing nothing' isn't an option – but 'doing everything' isn't necessarily the answer either. Cautious retailers should take an honest look at what they're offering and how they can adapt it to match customer needs - as Deloitte says, for a strong retail performance 'legacy tools are no longer fit for purpose. Businesses need to collect the right data about individual consumers and use it to respond in real time to their specific needs.'
This kind of innovation is exactly how to unfreeze the C-suite – it isn't disruptive, it needn't be expensive and it can be up and running very quickly, because it involves using what already exists in new ways to give customers frictionless, hassle-free shopping experiences.
3 Without the customer as your compass, you can end up going in the wrong direction
Fact: A study by Fujitsu found that 25% of retailers were not impressed by the return on their investment in technologies and said this had made it hard to connect with customers face-to-face. According to Rupal Karia, managing director of Fujitsu UK & Ireland's commercial sector, 'there is a clear disconnect between how retailers view themselves in this wave of technological change we are undergoing right now. Instead of focusing on how technology can improve their offering and loyalty among their customers, many are focused on the increased competition and the disruption to their sector.'
This really gets to the heart of the matter when it comes to competition within the sector. The concept of disruption as the key to future success has become so deeply ingrained in some retailers' strategies that they believe continuous introduction of business-changing concepts is the only way to move forward, losing sight of the people who should be central to every decision – the customers. As Deloitte says, 'companies can be overly confident with [disruption]. For example, they could launch a new channel, product, service or process improvement without fully understanding or allowing for the impact on the wider customer experience, resulting in a disjointed experience for consumers.'
The answer to this is to find out what customers want, and give it to them. In the majority of cases, it's as simple as letting them order online in-store (89% of shoppers want this, according to research by international software firm ExoLevel), and pick up and return goods when and where it's convenient for them without having to pay extra (70% of shoppers want this, according to Retail Week). No disruption, just connection.
4 Change can bring uncertainty at a time when stability is key
Fact: A Microsoft-sponsored study by Goldsmiths, University of London and YouGov shows that employees are concerned about the impact of automation on job security (59%), and have a fear of change when digital transformation initiatives are introduced (49%)
At a time when stores are closing in their hundreds and jobs in the sector are set to reduce drastically, retail employees are understandably reluctant to embrace further disruption in the form of new tech and digital initiatives. But, handled correctly, introducing the concept of using the digital store to adapt services to meet customer needs can bring reassurance and in some cases optimism to sales colleagues who may well feel under siege. The upside of introducing automation and digital elements is that it raises the bar for services requiring a human touch. Rather than seeking out the next big tech initiative, retailers should use their resources to plan for a two-tier system – automation for hygiene-level repetitive services, teamed with higher-paid, better educated human specialists to provide advice and support for customers with more complex needs. This will result in new opportunities for often undervalued and overlooked areas of employment – once they are free from the burden of their more monotonous tasks, people working in sales and services will be able to elevate their roles and skill up. Sales and service colleagues will become part of the innovation engine, rather than simply units for processing business.
The simple truth is that you don't have to disrupt to survive, but you do have to adapt – it's the only way to make sure 'Armageddon retail' doesn't become a reality.