This article originally appeared on Contactless Intelligence.
Retail technology and innovation specialist Red Ant (and CMA 2016 Finalist!) has developed the retail industry's first intelligent messenger bot specializing in delivery and eCommerce fulfillment. PAT (Personal Assisted Tracking) is a cross-platform virtual assistant for package delivery which chats in real time with customers via the messaging platform of their choice.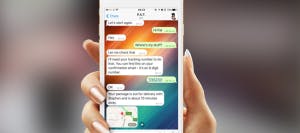 Built using retail innovation platform RedConnect, PAT can:
Talk to customers on any message platform – SMS, WhatsApp, Facebook, Twitter, WeChat and more
Understand natural language – text speak, typos, abbreviations, emojis, slang
Provide interactive notifications and status updates
Fetch and handle data from retailer systems, translating business logic into friendly, streamlined customer journeys
Perform tasks related to customer enquiries including amending/rebooking deliveries
Intelligently transfer to real customer service agents for complaints or new sales
PAT works through direct connection to any delivery service's API, allowing it to track customers' packages in real time and give them detailed information about their deliveries, from ETA to driver name and vehicle. Because it has built-in sentiment, intent and context analysis which gets smarter with each use, PAT is able to have a conversation with the customer and provide relevant answers using all the capabilities of the chosen messaging platform – pinpointing delivery progress on a map, for example, or dialling customer services direct for complaints and other issues.
"PAT as a concept came out of some intensive R&D we did around the emerging trend of 'Conversational Commerce'. We believe we've developed something which signals the next phase of retail technology – an intelligent, responsive service entirely focused on what works for the customer. Text – whether it's SMS or a chat platform like Facebook Messenger – is the only function which is used by 100% of smartphone users, so of course it makes business sense to allow customers to use it to communicate with retailers," said Alex Sbardella, Red Ant's Product Strategy Director.
"They don't need to download an app or log into a website – all they have to do is open the messaging service they already use every day and ask a question. For the retailer, they can support this customer choice on a very wide range of platforms without the need to build bespoke interfaces every time, saving time and money. And the beauty of RedConnect is that, because of the ease of integration and reusable user journeys, the possibilities for PAT beyond delivery tracking are endless – he can easily be integrated into any relevant service or platform."