Sofology – transforming the in-store experience for sales colleagues and customers
Sofology is the UK's fastest growing sofa specialist, and is rapidly becoming a recognised brand thanks to its carefully-crafted activity and ongoing sponsorship of the ever-popular Gogglebox franchise.
With 37 stores and 6 distribution centres across the UK, Sofology is dedicated to helping customers to 'feel at home on a sofa you love'. The company goes out of its way to tailor the in-store experience to their needs, and a big part of this is making sure its sales colleagues (known as Sofologists) are happy, confident and knowledgeable about the entire product range.
This commitment to ensuring Sofologists have everything they need to do their jobs to the best of their ability has caught the industry's attention – not only does Sofology have a Store Manager of the Year finalist in Retail Week's Rising Star awards 2017, it has just been ranked no.12 in the top 15 retailers to work for in a survey carried out by Retail Week and Glassdoor.
According to one Sofologist: 'people listen to ideas to make things better within the company for the good of the customer and business.' And nowhere is this more clearly demonstrated than in its partnership with Red Ant to introduce a specially-developed application for employees built using our connected retail platform, connecting online with offline to deliver a personalised experience where they have everything they need to know at their fingertips, with support tailored to customer preferences. Easy to use, flexible enough to cope with the demands of a modern retail business and future-proofed for a long-term development roadmap, it enables Sofologists to offer enhanced customer service, ultimately driving engagement and loyalty.
Put simply, the application replaces Sofology's existing sales tool and allows Sofologists to find details of the sofa range that a customer is interested in and take them right through to purchase on their behalf. What's more, if the customer is happy to give some of their details, it's possible to merge the basket they've built in-store with their online account, allowing them to complete the purchase from home quickly and easily once they've had the chance to check measurements and so on.  
Feedback so far has been incredibly positive – we caught up with Jon Cleaver, Sofology's Chief Technology Officer, to find out why:
Q: Now that the Sofologists have had an opportunity to try out the application, how do they feel it's working for them?
A: 'Tori is just one example of our Sofologists who absolutely love the application. Here she is promoting it for us, to 11 other stores! And this sentiment has been echoed time and time again from multiple Sofologists: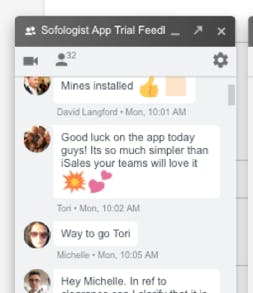 Q: It's early days, but have you seen any change in sales as a result of giving Sofologists the new application?
A: An increase in sales is a little harder to call so early on, but I can confirm that we are seeing a nice steady ramp up in 'complete at home' purchases, which is a fantastic additional sales tool unique to our sector. 
Q: So it's working for the Sofologists – how do customers feel?
A: Customers love it and as the application is far slicker than the tool it replaces, our Sofologists can confidently turn the screen around to customers at any point in the journey. We have witnessed first hand just how effective the application is and how comfortable and familiar the experience is to customers. 
Q: Has the application had an impact on how much time and effort it takes to pick up and use for sales?
A: This is, without a doubt, one of the best virtues of the application.
 [Our previous sales tool] requires training - and when the training is complete it can still baffle even our keenest Sofologists for a considerable time after.
The new app is intuitive, takes minutes to pick up, and serves customer facing information quickly and efficiently.
In the past Sofologists would have to task switch to Safari to show customer friendly product visuals and details. Now, this can be done from one core application, all while building a basket. 
The application is clearly making Sofologists' lives much easier and encouraging customers to buy – a win for everyone involved. And as this is just the first phase of Sofology's strategy for a fully connected retail experience, you can expect more innovations and industry accolades in the future.