Celebrating 20 years of Red Ant with sun, sea, sand and speedboats
Last week, we went on an amazing journey to the Croatian island of Hvar to celebrate 20 years of progress and success at Red Ant.
Last week the Red Ant team went on an amazing journey, departing an unexpectedly sunny UK for the Croatian island of Hvar, which, having claimed the title of 'the sunniest spot in the country,' was of course forecast for rain when we arrived. But our spirits were high, because we were there to celebrate 20 years of progress and success at Red Ant.
Thursday
The Red Ant team hit the road early, travelling from far and wide to meet at Gatwick Airport at 4am. Despite the early hour and a definite lack of sleep, not one of us napped on the flight, too excited for our island adventure ahead. From Split Airport, we jumped in coaches to the port, took a bumpy ferry ride to Hvar, and finally made our way on foot to Amfora, Hvar Grand Beach Resort.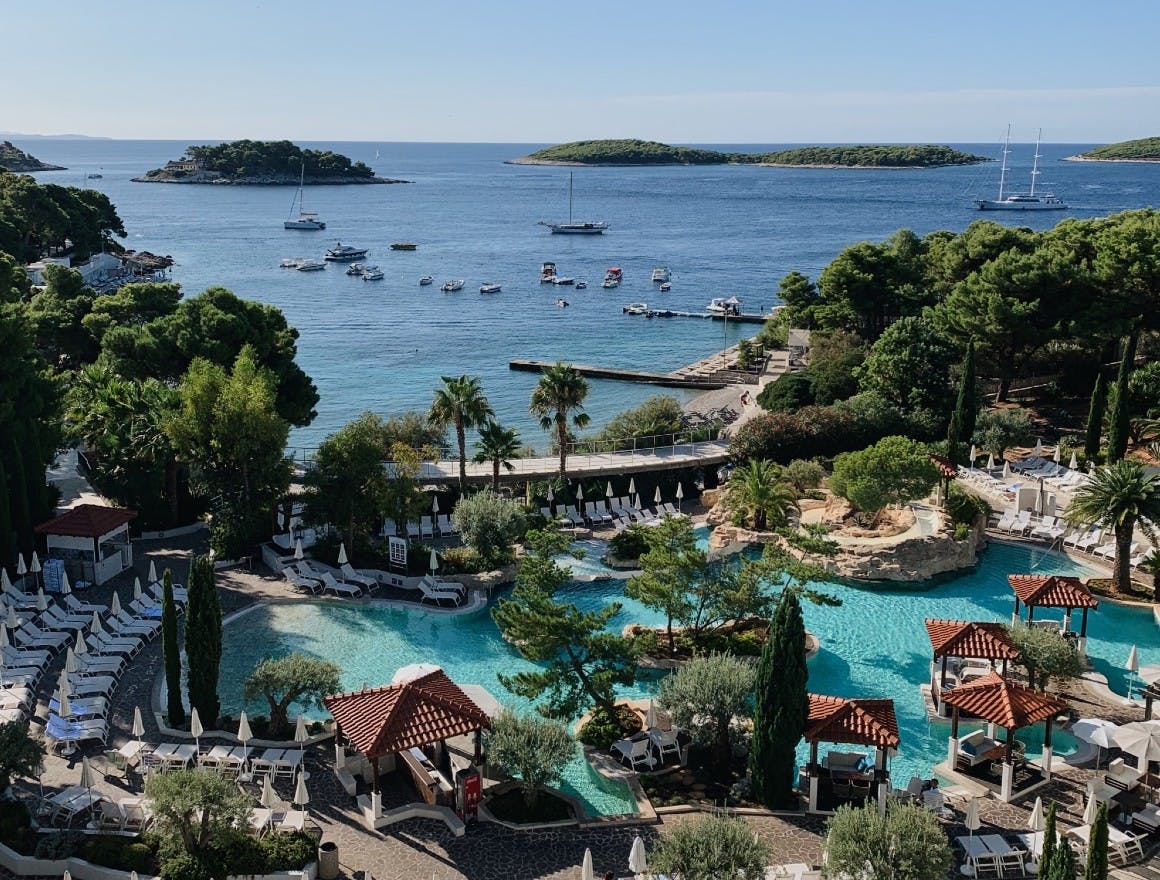 We enjoyed a delicious Mediterranean lunch with an incredible 360 degree view of the island, then it was time to get to work. The Ants gathered in the resort conference room as our CEO Dan Mortimer took the stage. Dan talked about our successes so far and the exciting projects we have ahead; gave us a sneak peek at an exciting product launch; presented plans to invest even more in employee wellbeing and development; and held an open discussion on how we can continue to contribute to our community through our PhilANThropy programme.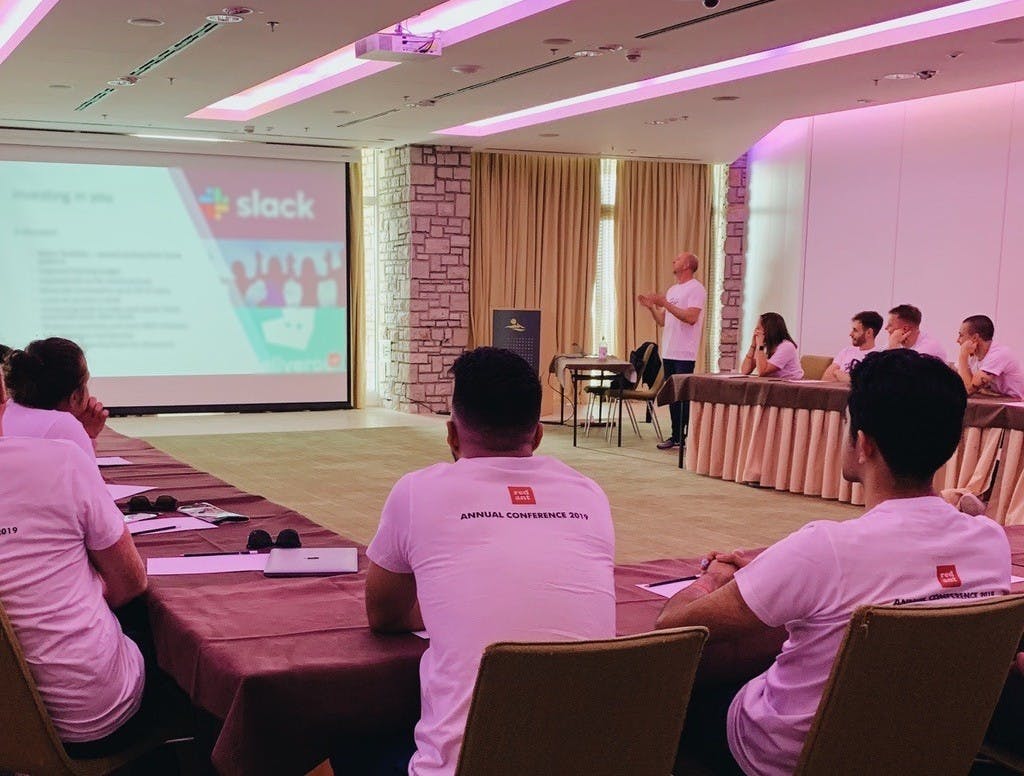 With the team amped about the year ahead, it was time to relax. We took full advantage of the resort's water slide before settling down poolside with a few cocktails. Then it was time for a short walk along winding marble streets and past Gothic palaces into Hvar's enchanting old town for a candlelit dinner overlooking the sea at Park Restaurant. Once dinner was devoured, we headed to the harbour to dance the night away.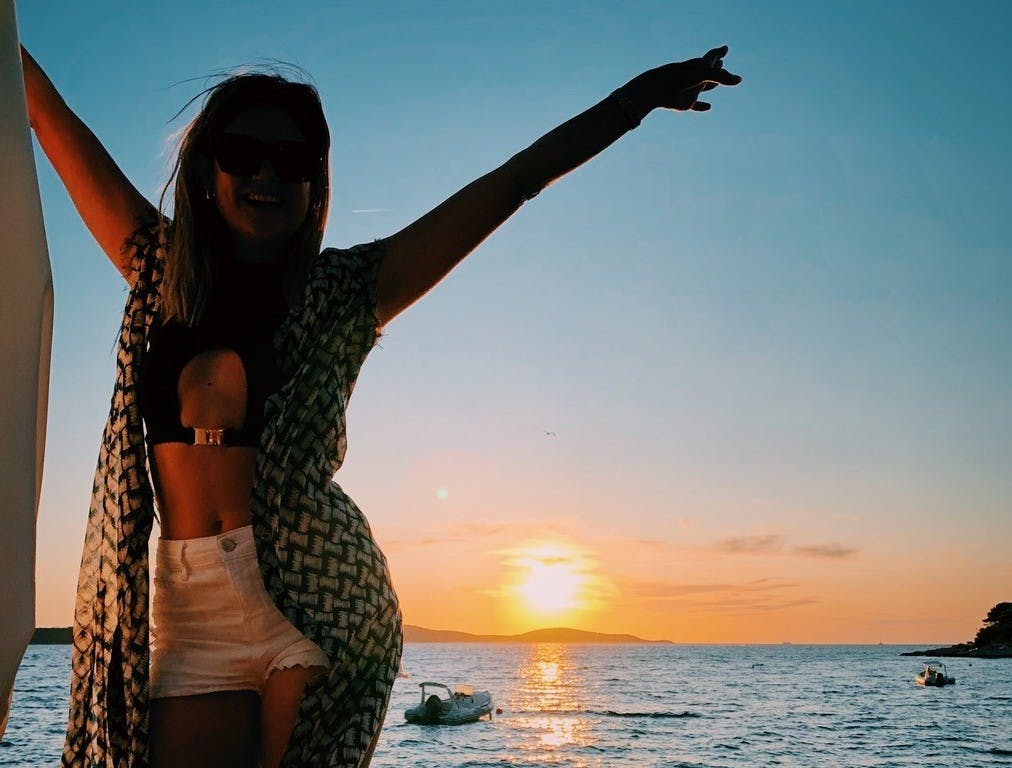 Friday
After a buffet breakfast in the resort restaurant, the Red Ant team assembled at the port to meet Amazing Hvar for what was to be the highlight of our trip. We split up into teams – Dolphin, Octopus and Swordfish – and piled on to three speedboats to start our day exploring Forski škoji, the islands of Hvar.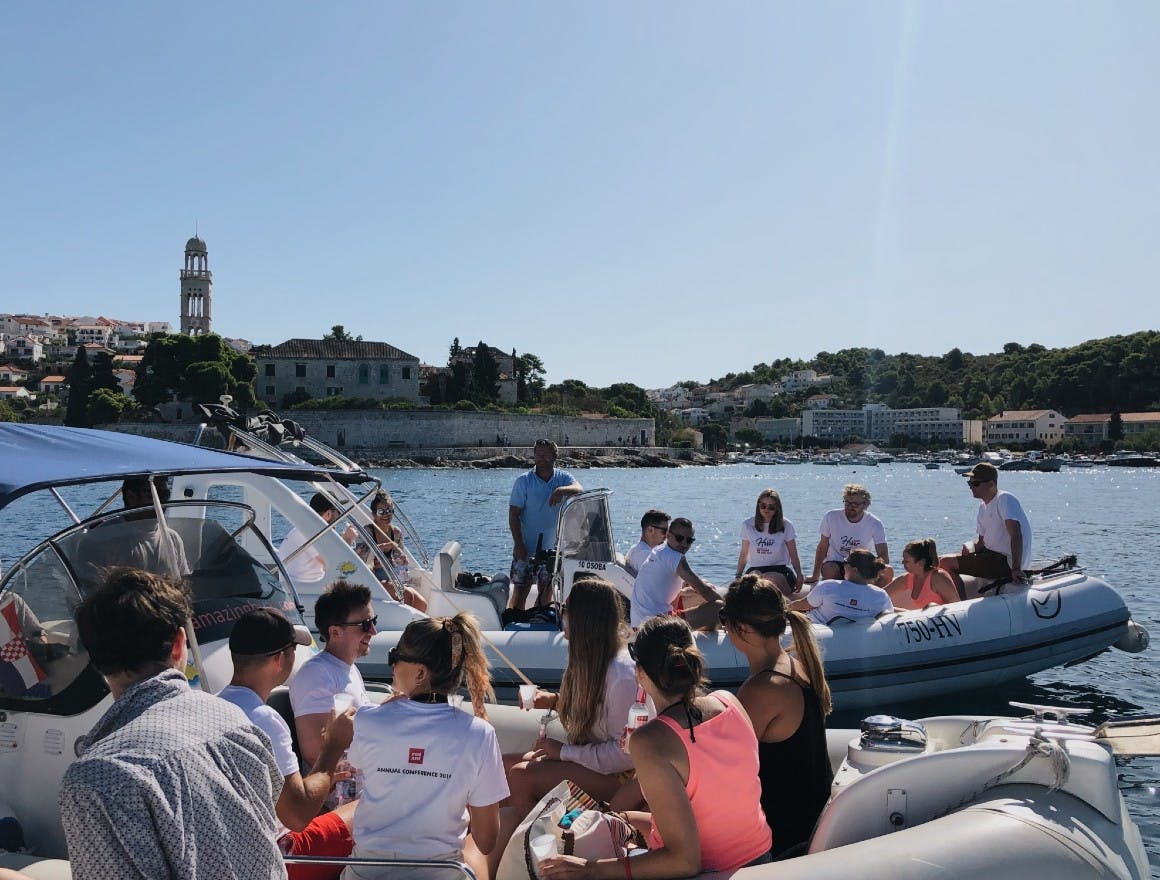 Our first stop was in the beautiful deserted bay of Malo Zaraće, where the team quickly jumped overboard into the warm, clear waters to snorkel with schools of blue fish. At Velo Zaraće, our boat drivers collected sea urchins so that we could sample the caviar, a delicacy of the Dalmatian coast. We moved on to Dubovica for another swim, before exploring the beautiful Crvene Stijene (Red Rocks), a natural phenomenon of vertically disintegrated red cliffs. Some of the braver Ants climbed the steep cliffs, while others swam into the caves for a closer look.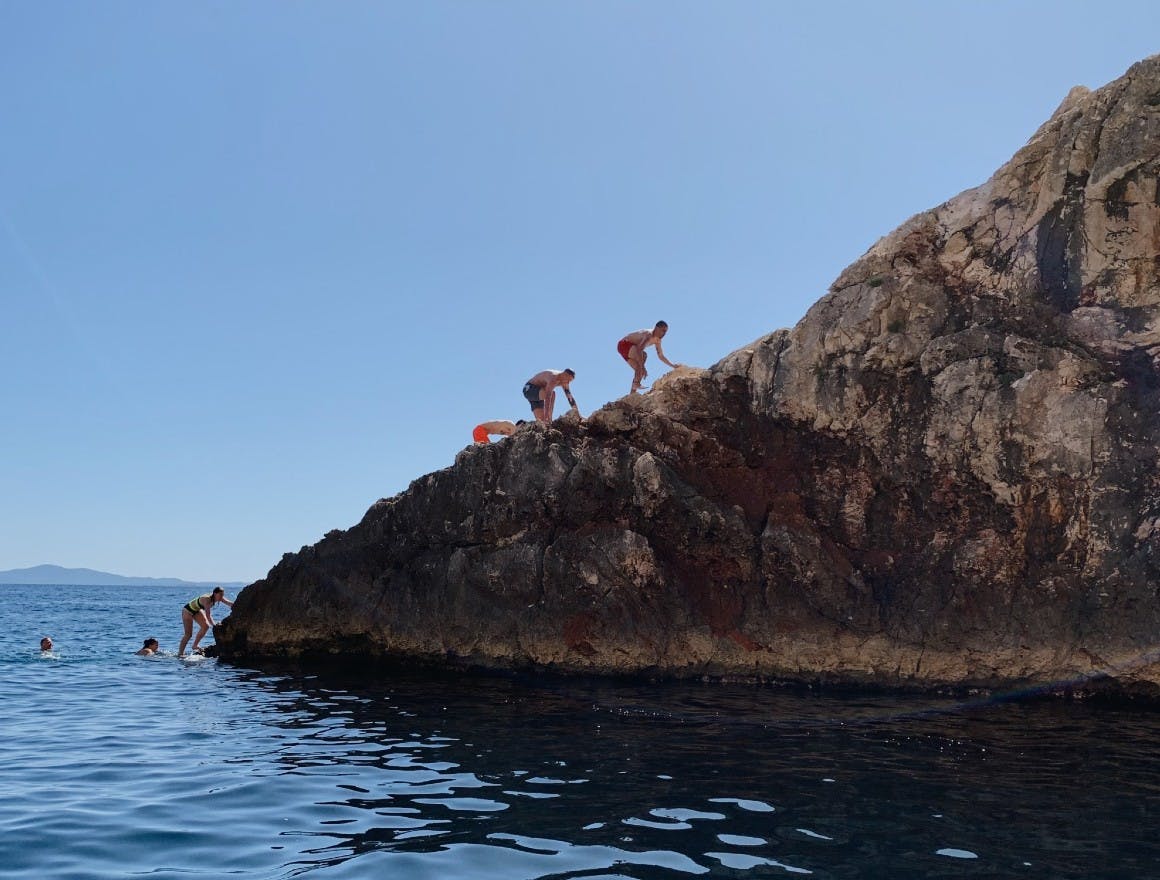 Our final stop was the coastal village of Sv. Nedjelja, where vineyards could be seen on steep slopes at the highest points of the island. This was the home of the famous Zlatan Otok winery. We were shown into an underwater wine cellar with wooden barrels big enough to sit in and windows looking out into a seaside aquarium. But the best part was, of course, the wine – we were treated to five of Zlatan Otok's premium wines and a feast of local seafood, prosciutto and cheese.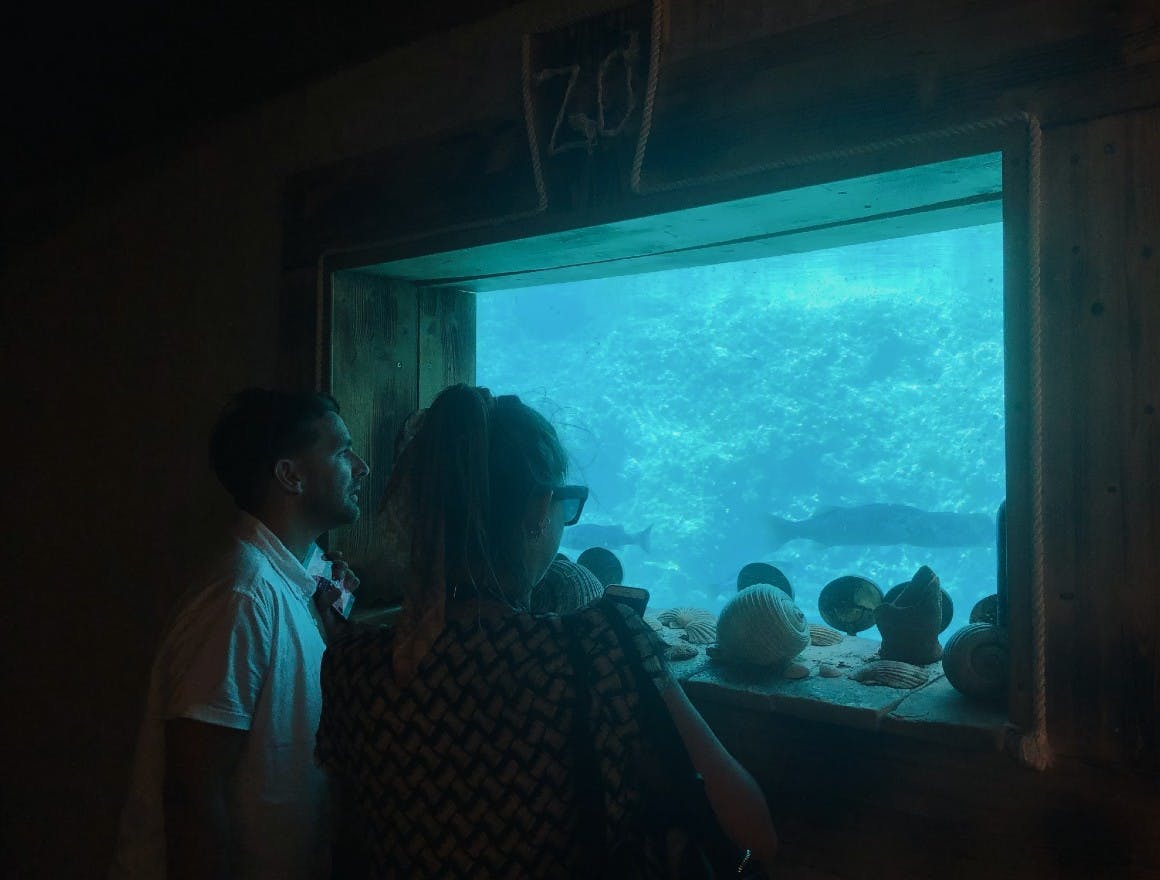 Finally, it was time to head home to Hvar. To make the most of the last sunshine left in the day, the team headed straight to Hula Hula beach bar for a few drinks before dinner. Dan, Red Ant CEO and multi-dog owner, made friends with a Border Collie at a neighbouring table, who happily demonstrated 'shake' and 'sit' in exchange for a few snacks. We watched the sky change to a spectacular purple and gold before making our way to La Bocca for dinner, then ventured out for another night of drinks and dancing to celebrate our success.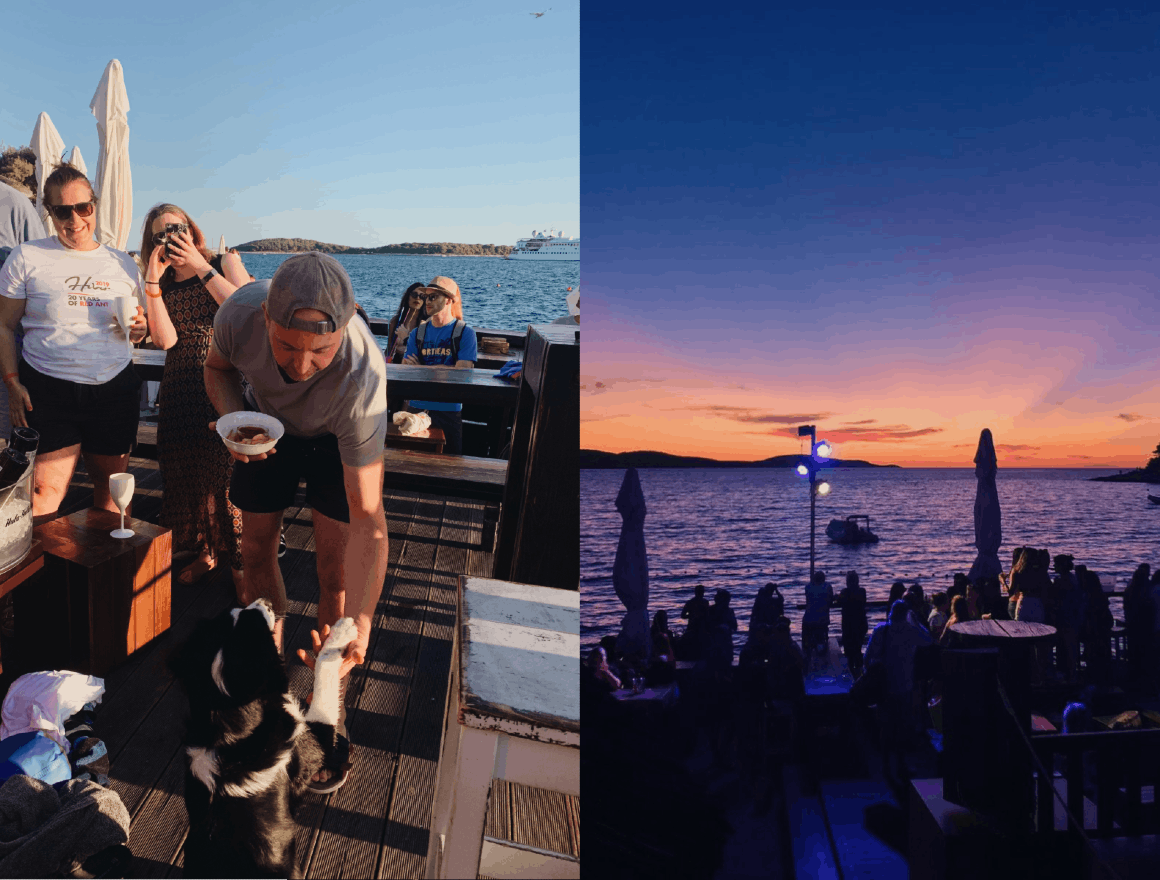 Saturday
Saturday was a day to rest and recover. We had time to relax next to the pool and make one last trip to the beach before it was time to pack up and head to port.
We have more exciting adventures ahead in 2019 and beyond – both in and out of the office. To keep up with them, follow us on LinkedIn, Twitter, Facebook and Instagram. And if Red Ant sounds like the kind of place you'd like to call home, keep an eye out for open roles. We're always looking for talented, curious and passionate people to join our team.