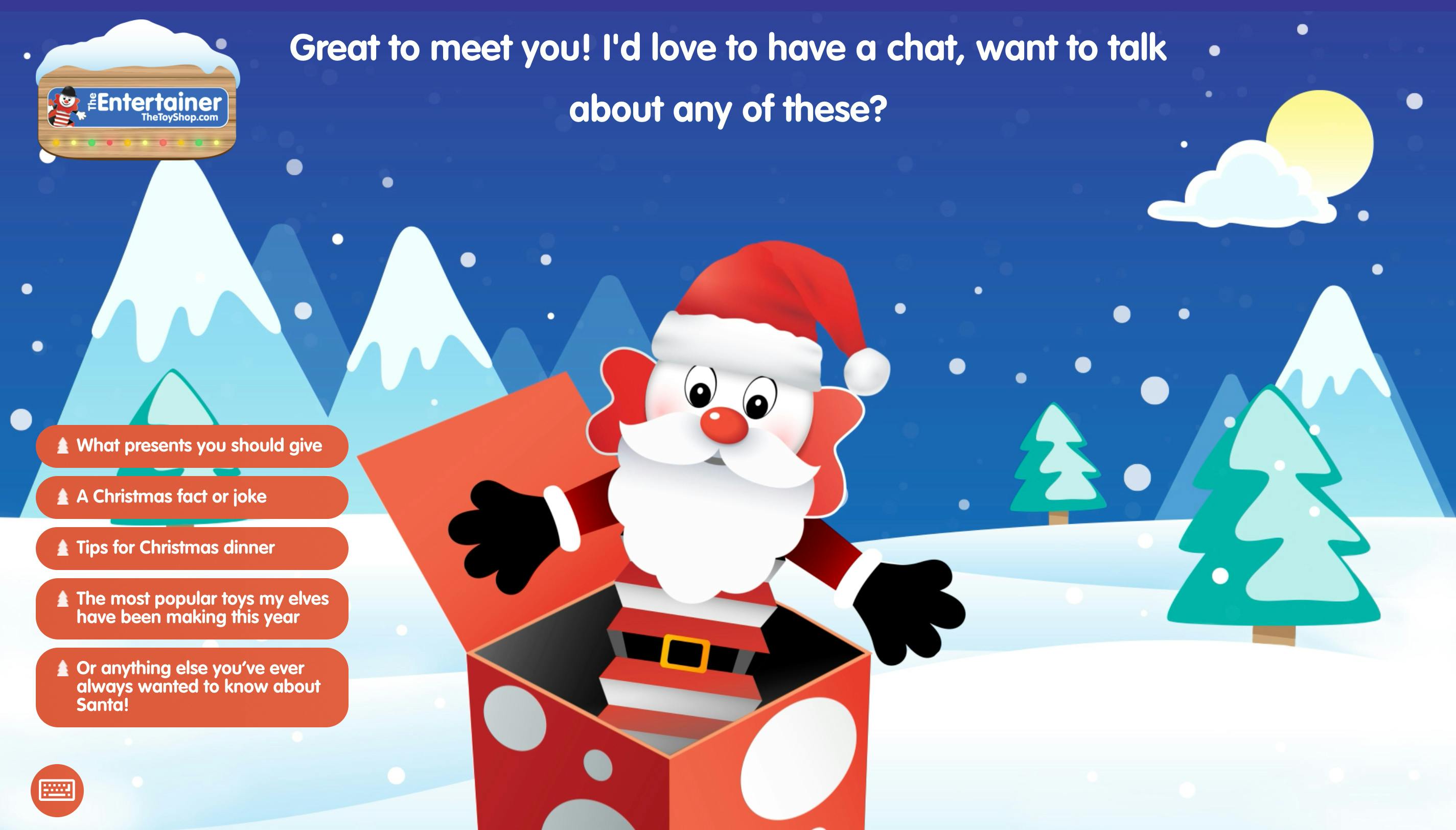 Customers will be able to ask much-loved mascot Jack, dressed as Santa for the occasion, about all the toys and games they can buy this festive season as well as facts, jokes and information about Christmas, via both voice and text input.
Built by Red Ant's Hong Kong team using their expertise and experience in delivering AI projects, Jack will answer toy- and Christmas related questions on all devices, with voice input available via the Chrome browser:
Jack asks two profiling questions – age and price range - which allow him to use the information he has collected to provide a link to The Entertainer's existing gift finder
Artificial intelligence via natural language processing identifies and classifies incoming customer questions, enabling Jack to give the most relevant response from his fixed database of answers
Responses and relevant questions are 'trained' by human helpers and can be continuously refined using new input or existing data from the live chat logs 

Jack is also able to answer customers' questions by giving access to other relevant dynamic functionality via links such as the store finder or FAQ pages
Dan Mortimer, CEO at Red Ant, said: 'This project was a terrific example of international collaboration between our UK and Hong Kong teams who worked with The Entertainer to build a virtual assistant which is not only fun to use but also delivers a commercial benefit with genuinely cutting-edge cognitive technology.'
Rob Wood, Head of Online and Digital at The Entertainer, said: 'We knew that Red Ant has expertise in developing AI projects, and we wanted to use their experience to deliver a virtual assistant that ticks all the boxes. We wanted something that was fun, relevant and genuinely useful, and Santa Chat is all three. It also paves the way for future connected retail initiatives.'
Update: Over the Christmas period, Jack increased average order value by 9% and conversion by 24%, as well as increasing the average session on the website from 3 minutes to 10 minutes.