What's In Store? January 2019
Red Ant's regular look behind the headlines at retail and lifestyle brands' challenges and conversations, with expert views and actionable insight.
NRF 2019 says stores need to get digital to survive
According to a report by Retail Technology from Retail's BIG Show, held by the NRF in New York earlier this month, the single unifying message across retailers, vendors and commentators was this:
Stores need to digitise the customer experience to survive
The overarching strategic view was that physical stores will continue to be vital to the industry, but only if retailers roll out the relevant tech to provide a seamless, omnichannel experience. According to Walmart's CTO Jeremy King, 'It's no longer acceptable to just offer [customers] a digital experience online, at home. They want a digital store experience too that stretches from online pick-up in-store, through to digital shopping lists and voice.'
This was backed by research carried out by Retail Research Systems (RSR) for IBM, which revealed that:
50% of retailers see the roll-out of technology to stores as their greatest opportunity to grow sales and differentiate, and those with 'winning' strategies are more willing to blend digital and physical experiences
60% said the top technology-enabled opportunity that would most improve the store experience is for it to reflect more of what consumers like about shopping online
Top of the surveyed retailers' wish list was new technology and better people to use it
Red Ant says: NRF's hottest topic this year reflects what we've been saying for some time now – that customers expect to shop how they want, when they want, and it's down to retailers to provide a seamless experience if they're going to survive a challenging climate that isn't going to get any easier in 2019. Getting their strategy for the digital store in order should be their top priority – customers want it, retailers need it and the industry is rightly focused on it.
Easy to implement? A hassle-free way to kickstart digital transformation, RetailOS® brings together everything retailers and lifestyle brands need to give customers the kind of experience that makes it worth their while to come to a store. Clienteling, assisted sales, click and collect, mobile POS, actionable analytics and innovations such as machine learning and in-store theatre are all part of its suite of apps – exactly what attendees at the BIG show were looking for.
Time to activate? Six weeks to analyse, plan and start implementation.
Find out more about RetailOS®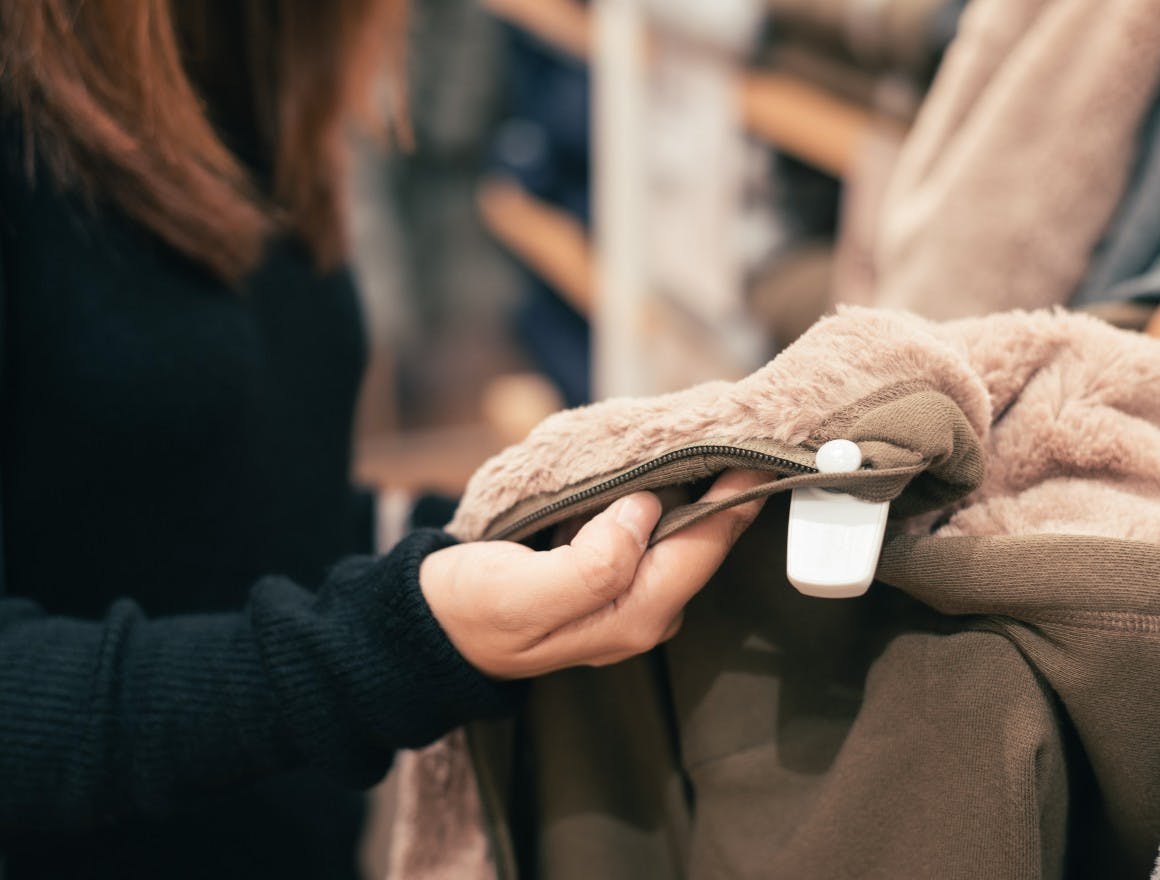 Research shows that customers want to see, feel and even smell what they're buying – but most of all they don't want to queue
A new study among 10,000 consumers by experiential design company Mood Media has revealed that 78% stated 'an enjoyable in-store atmosphere' was key when deciding to visit a physical store over online shopping.
Other interesting stats from the survey, which was carried out with consumers from eight countries including the UK, China and the US, included:
44% of UK shoppers said they noticed screens displaying information or interactive content in store
49% said they would like to see in-store special offers on digital screens, specifically in clothing stores
56% said the ability to touch, feel and try clothes, products or services was very important to them when visiting a store
Perhaps unsurprisingly, the most significant point of friction for UK shoppers was queuing - 62% said they had either avoided or left a store because of long queues.
Red Ant says: This is further proof that customers are seeking a specific experience from a physical shopping trip that they just can't get online. For all its convenience and immediacy, eCommerce alone cannot offer the sensory and social input you can get by shopping in-store – brands who can make the experience special as well as seamless (and take care of the queues) are much more likely to maintain footfall.
Easy to implement? RetailOS® not only offers a range of apps for in-store theatre from interactive displays to smart changing rooms, but it also handles the practicalities such as queue-busting using mobile POS. Retailers and lifestyle brands can offer not only a frictionless shopping experience but also one which delights and surprises.
Time to activate? Three months to scope and run a pilot – full roll-out will depend on store numbers
Find out more about in-store theatre and mobile POS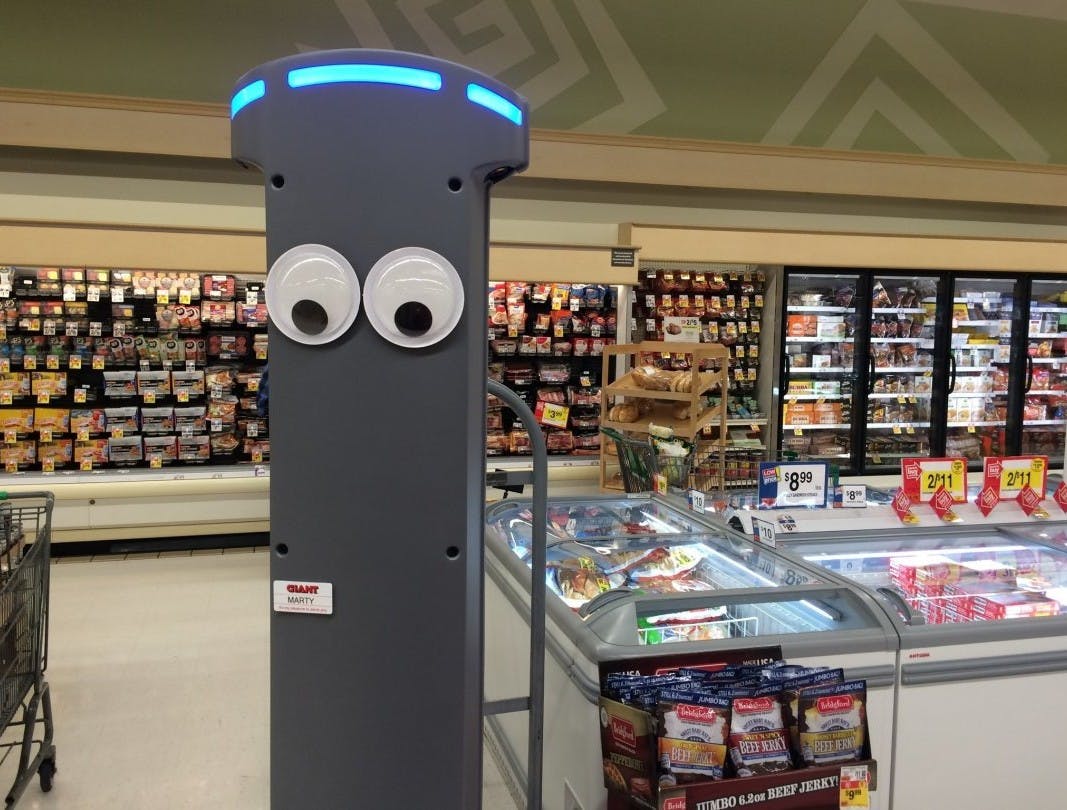 US grocery giant Ahold Delhaize initiates largest-ever deployment of front-of-store robots
In a move which has captured the attention of both trade and mainstream press, Ahold Delhaize, which owns US brands Giant Food, Giant Martin and Stop & Shop, has deployed nearly 500 robots in its stores. Hailed as 'one of the most significant deployments of robotics innovation in the grocery retail industry', the robots – named 'Marty' - come equipped with cartoon facial features designed to 'humanise' their 6ft forms as they roam the aisles.
Their key function is to identify hazards such as liquid, powder and bulk food item spills and provide reports that enable swift clean-ups. They help stores mitigate risk caused by spilled goods, and enable store associates to spend more time serving and connecting with customers.
Red Ant says: This is the first significant front-of-store example of automation freeing up colleagues to do what they do best – interact with and sell to customers. As our CEO Dan Mortimer predicted last year, 'the upside of automation is that it raises the bar for services requiring a human touch - our interactions, both physical and online, will continue to evolve into something more in tune with our needs. Retailers have to prepare for a two-tier system – AI for hygiene-level repetitive services, teamed with higher-paid, better educated human specialists to provide advice and support for customers with more complex needs. This should result in new opportunities for often undervalued and overlooked areas of employment – once they are free from the burden of their more monotonous tasks, people working in sales and services will be able to elevate their roles and skill up.'
Easy to implement? RetailOS® gives store associates a single, personalised, easy-to-use interface on tablet or mobile with all the tools they need to maximise their skills, improve customer experience and increase sales. Couple this with SellSmart, our AI sales trainer, which uses the latest advances in machine learning and natural language processing to transform the sales and training process, and you will empower store associates to reach their full potential, far beyond aisle spills and clean-ups.
Time to activate? Three months to scope and run a pilot – full roll-out will depend on store numbers
Find out more about RetailOS® and SellSmart machine learning
Red Ant, 24th January 2019